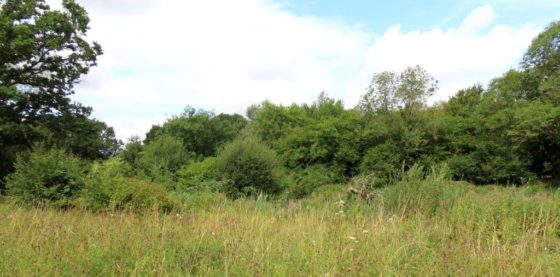 In the eight weeks since our last visit, the Phyllis Currie reserve has undergone a transformation – the wonderful hay meadows have bloomed and seeded, and been mown and fenced for aftermath grazing, and the hedgerows are starting to bear fruit.
But fragments of the summer bounty remain uncut, especially along the fringes, and here Knapweed, Wild Carrot and Rest-harrow were still flowering profusely and a magnet for passing pollinators and other insects.
Sadly, once again, the weather wasn't kind to our search for insect life, being largely overcast and with a little rain, so we started off scouring the site for galls, leaf-mines and other diagnostic species' signs. When surveying, it isn't necessary to see all you record, provided the signs of its presence are unequivocal!
Any invertebrates we did find were sheltering, deep in the foliar gloom, making photography difficult, but included a range of bugs, flies, bush-crickets, scorpion-flies and spiders:
It was interesting to see numerous Tuning-fork Harvestmen Dicranopalpus ramosus, all horizontally-splayed legs and eponymous palps: although first found in Britain in 1970 near Clacton, we rarely see it on our home patch of north-east Essex.
Nor indeed does the attractive micromoth Metalampra italica, first recorded in Britain in 2003 in Devon, seem to have found itself in the Wivenhoe area as yet. It seems to be spreading rapidly, but the latest map from the Essex Field Club shows only five occurrences in the county,  none in the vicinity of Phyllis Currie.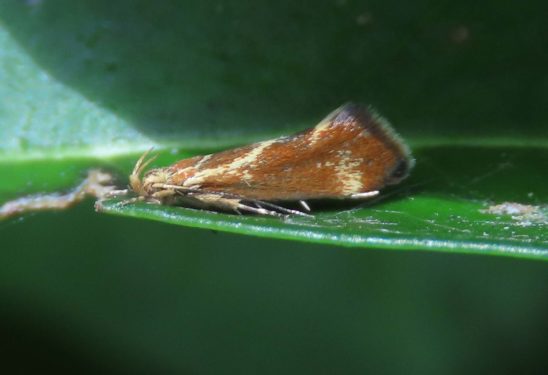 Down by the water's edge, there was more activity especially when the sun peeped out, from dragonflies, including Common & Ruddy Darters egg-laying, Emperor and Brown Hawker.  Numerous picture-winged crane-flies Ptychoptera contaminata were resting on the emergent vegetation, and – another surprise, given it is known from only a few Essex localities – the Sponge-fly Sisyra nigra. Looking for all the world like a diminutive Alder-fly, this is actually a lacewing whose larvae feed upon freshwater sponges.
The abundant flowers of Water Mint always pull in lots of insects; today it was largely hoverflies  and tachinids (parasitic flies), part of the array of unsung pollinators. And shining brightly from the foliage, Mint Leaf-beetles Chrysolina herbacea, the beetles that carry around with them their own ray of sunshine even on an otherwise dull day.
So despite the unpromising weather, this was another very satisfying couple of hours. While we may not be finding masses of rarities, the diversity of species and the abundance of insects generally is a delight. These are the little things that make the world go round, and enclaves, like Phyllis Currie,  from the agrochemical onslaught should be valued as Arks of Resilience in an hugely uncertain world.