UNESCO World Heritage Sites, those places of recognised cultural or natural importance to the whole world, come in many shapes and sizes. And all too often we run off to find those in far-flung corners of the world – take the Taj Mahal or the Great Barrier Reef, for example – but lose sight of those places and their fascinating stories almost on our doorstep.
So it was that we headed out for a few of days by rail last week (incredible value at less than £70 in total, with railcard and Advance tickets) to two of the British sites that neither of us had visited before, Saltaire and Durham, both cultural sites but from very different eras.
Evening in Saltaire was foggy and intensely atmospheric, the diffuse lights in an industrial landscape seemingly transporting us into the art of Atkinson Grimshaw, and perfect for displaying the street art of their Living Advent Calendar.
Next morning, still grey skies but the fog had lifted, to reveal the Victorian 'model village' industrial architecture for which this site is inscribed on the UNESCO list. The eponymous Sir Titus Salt consolidated his textile empire and all its processes under one roof, on a greenfield site away from the worst of the pollution from West Yorkshire's 'dark, satanic mills', and then set about consolidating his workforce there too, with purpose-built housing, social and civic facilities, astride the Leeds-Liverpool Canal, a vital artery for trade. While it undoubtedly benefitted his bottom-line, Salt's philanthropy is remarkable by today's standards. And the workers must have relished the opportunity to escape from some of the worst Victorian slums in Bradford.
Salts Mill itself has had a chequered history, almost falling to the demolishers until taken over in the 1980s by a latter-day philanthropist Jonathan Silver, who recognised its potential for post-industrial uses, including as an art space. Recognised AND realised to a considerable extent, though the site is huge and much still awaits transformation. Good reason to pay a return visit? Certainly if the art on display remains as exciting. David Hockney is a great supporter of the Mill, and we had chance to see a range of his work, including some of his most innovative pieces, including his fax-art from the 80s and the more recent i-pad art. His sequence 'The Arrival of Spring' particularly spoke to me, based as it is on Woldgate, near Bridlington, one of my childhood stamping-grounds as a budding naturalist.
Thence to Durham, much more classically historical and 'chocolate-box' beautiful, nestling within a tortuous loop of the River Wear. The view of the Cathedral and Castle, familiar to anyone who has travelled the East Coast Mainline, was the original inspiration for this trip when travelling down from Edinburgh in the summer, and as we arrived in the dark, it was suitably, dramatically lit, inviting our exploration.
And then again by day, the Cathedral especially magnificent both outside and especially in. Such a pity that, with the angles and light, ornamentation, stained glass and wall art, all inspirational subjects, no photography is allowed inside…but it was still worth the visit. Then there was so much more, the lanes and street layouts, churches and even more modern, though still classic, architecture like the 1960s concrete bridge of Ove Arup. Another familiar from my past, as an alumnus of UEA, where brutalist concrete set the backdrop for my early twenties.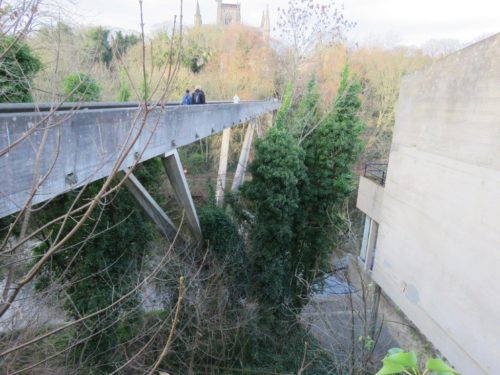 But perhaps best of all, no doubt in part due to the welcome emergence of the sun, was the setting of the city – castle and cathedral as ever-present sentinels above the riverside walks. And there we could indulge in a little pre-Christmas wildlife watching (so much less stressful than shopping!), with Goosanders on the river and fungi fruiting among the trees, including Judas' Ear, surprisingly on a Sycamore stump, its usual host being Elder.