In September, our first real holiday since the start of the pandemic saw us heading to Scotland by train, our preferred mode of transport, with ferries and bus to help join the dots.
First to Glasgow, our favourite city, although this time mainly for sleeping (and breakfasts at our traditional haunt of the G5 deli in the Gorbals). Days out north and south of the Clyde introduced us first to Helensburgh. There the main attraction was The Hill House, the Mackintosh masterpiece of design, albeit wrapped in its protective chainlink coat…
Its garden too was full of 'no mow lawns', and an array of interesting plants and insects:
… and the lower, riverside town, while less affluent, had lots of Eiders and another lovely eating place (Riva, on the promenade), kicking off the seafood extravaganza (for me) that our holiday became.
Next trip was via the ferry from Gourock to Dunoon, a short crossing but one which featured Harbour Porpoises in considerable numbers.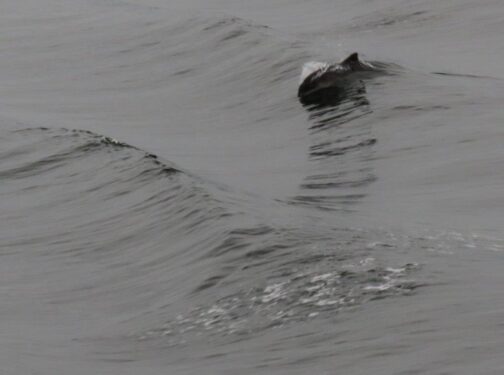 Dunoon churchyard and gardens gave us lots of lichens, along with a few insects…
…while the stony beach produced lots of Ray's Knotgrass and a strandline flora of Tomatoes and Sunflowers!
And not forgetting the next gastronomic delight on the roof terrace of the newly-opened Tryst restaurant…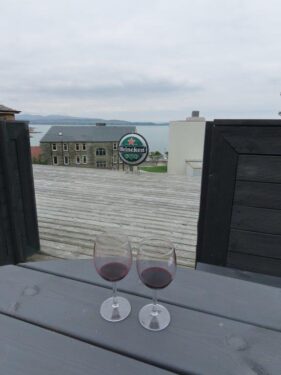 Moving on, the less said about Oban the better, apart from its Hooded Crows, Black Guillemots and the very best meal of our holiday in the Lorne Bar, just off the main drag, and so really good value. Seafood soup and mussels to beat all comers!
And then off to Coll, to meet up with our friends @Wildsmiths, looked after by them and Coll Hotel (great food at both venues once again) for four days. Four grey and damp days, with barely a sliver of sunshine). And midges….but this is Scotland!
Both ferry crossings were grey and calm, and the return very misty, our foghorn ricocheting off the mountains as we traversed the Sound of Mull simply adding to the atmosphere. Auks, Gannets, Bonxies and a few Manx and Sooty Shearwaters came close enough to see, as did Harbour and Grey Seals, Porpoises, dolphins and a brief (probably Minke) whale.
On the island, there was a myriad of natural delights, from misty views (very occasionally sprinkled with sunshine magic)…
… to dewdrop delights …
… to plants we don't see at home….
… and those we could only feasibly see in a place like Coll, especially the last few flowers of Irish Lady's-tresses, and the Pipewort, as Greg memorably said, like liquorice allsorts on knitting needles, set at jaunty angles…
… and so much more, from Buoy Barnacles to beach trees, porpoising seals to jellyfish,  the sheep rock to the largest sand dunes I have ever seen in the UK, hosting more Bloody Crane's-bill than I have ever spotted before, and here with its seriously rare mite gall…
Rather more prosaically, the Vine Weevil on the quay  (according to the National Biodiversity Network map has not been found previously on the island…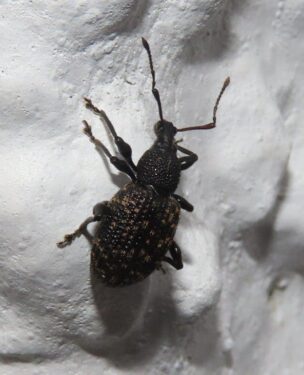 Back to the mainland it was then across the country to Berwick-upon-Tweed. Naturally bridges feature heavily in our photo coverage.
But again so much more: buildings, boats and the harbour…
… and, the poor weather again notwithstanding, a selection of insects and birds.
So a great holiday, the memories of which have sadly lasted longer than our bottle of Coll Gin. Liquid Coll atmosphere, all Bog Myrtle and seaweed, a sip or two of that  brought the sights, sounds, scents and flavours flooding back for a few weeks!