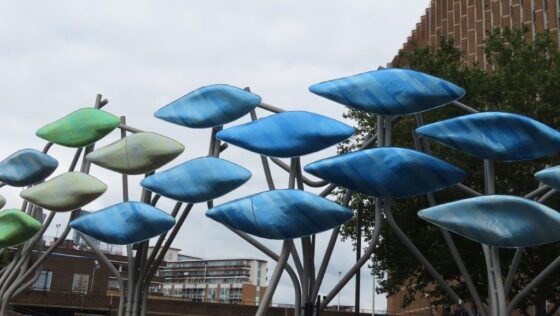 Out to the fringes of 'old Essex', in Stratford, the Olympic Park and Three Mills Island: landscapes old and new…
In the Olympic Park, nearly 10 years on the ecological planting still thrives…
Our last visit to the area was the subject of one of our earliest blogs in July 2017. There have of course been changes over four years, especially in the additions to the high rise landscape.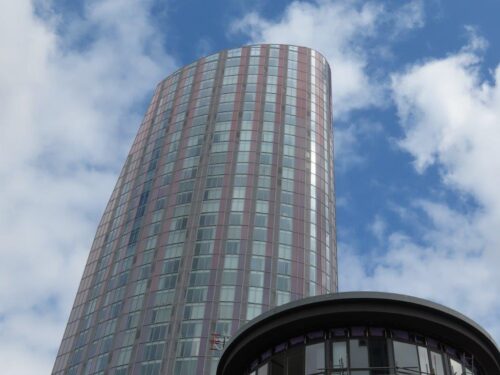 But from a wildlife perspective, it seems the main change has been the colonisation by Mottled Shield-bugs. New to the area (and Britain) as recently as 2010,  there were dozens of them along the Greenway edges and hedges of Traveller's-joy and Bramble (and bizarrely Summer Jasmine) in all nymphal stages, along with a few adults.
This bug is still unknown to us in the north of the county. The same is not true of this splendid Rose Chafer, a fairly common sight around Colchester, but with very few records in the south-west, according to the Essex Field Club map…
To these can be added much more of interest, from Rose Sawflies, picturewings and hoverflies, and dense patches of Dwarf Elder.
And so to the main reason for our visit, to explore the complex of waterways in the kilometre downstream of Stratford, a fascinating complex of channels, fresh and salt, tidal, flowing and still, embracing an inland archipelago.
Three Mills island is in effect the end point of our mental walk around the Essex coast, right to the far flung corner of the tidal lands of the East Saxons, the 'walk' which has been turned during three months' lockdown into eighty thousand words, and a planned six volumes of Not Just a Field Guide to the Essex Coast. Two tidal limits here, one just upstream from the House Mill, the other at the head of the Channelsea River: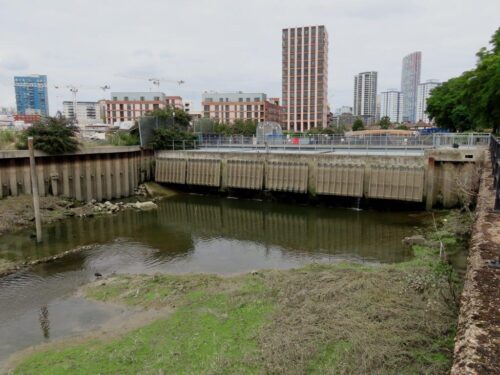 As with the Olympic Park, architecture and artitechture featured, both old and new, with cathedrals to both power and poo….'poo' being the ornate Byzantine dome of Abbey Mills pumping station, and 'power' being the largest tidemills of their era, and the interlocking tracery of now abandoned gasworks, their form seemingly mimicking the The Orbit, just upstream.
Low tide rendered the tidal channels almost empty, but still a Kingfisher flashed through, as Red-eared Terrapins basked in the sunlight. And as everywhere, there were plenty of other delights to find, from leaf mines to jewel beetles…
On the banks, again it was a mixture of natives and recent arrivals, mostly increasing invasive species, apart from the Honeybee using the Himalayan Balsam flowers for food. The delights of Multicultural London, where even plants from half way round the world are doing their bit to support our pollinator army!