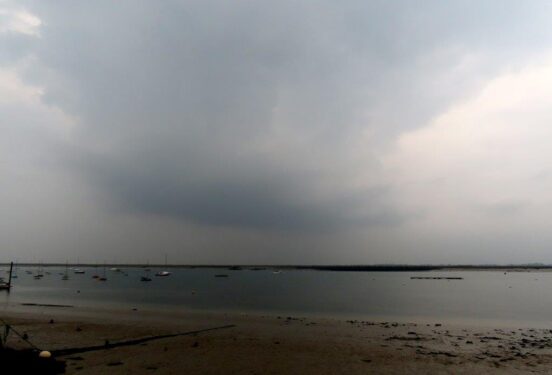 A great couple of days exploring the less known (to us) parts of the Crouch for our book. The weather may not have been too great but it certainly made for moody, moisty landscapes…
Some landscapes bore the hallmarks of autumn, dead Hemlock weaving filigree patterns in the sky, while the year-round winter of Dutch elm disease is still rife in the Dengie.
Saltmarshes in contrast are still blooming away, with Sea Wormwood and Sea Aster only just past their best…
… while Sea-blite dons its autumn coat, fifty shades of green.
Invertebrates included Long-winged Conehead, the egg sac of a Wasp Spider and larvae of the Plum Slug-sawfly.
Among the many other highlights: the wonderful agri-environment work at Burnham Wick Farm (apparently successful as Corn Buntings and Linnets were everywhere), outstanding food at the Oyster Smack Inn, and the helpful, friendly service of the Burnham Ferryman Mark Phillips, giving us an easy window into the wildlands of Wallasea Island. We will be back!