'41 Acres', 'The bit behind the Allotments', 'the southern end of Wivenhoe Heath', whatever you like to call it, was certainly an interesting venue for our June's Botany and Bug walk. Thank you to everyone who joined us, especially the hay-fever sufferers who found it challenging but nevertheless enjoyable…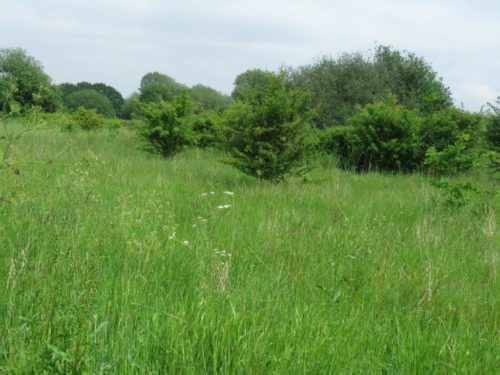 The main reason for hay-fever stress was pollen from the many and varied grasses which inhabit this area – land formerly gravel pits but which is now filled in and in recent times been allowed to do its own thing. On an early summer morning, slightly damp and very humid it was certainly lush and fertile, but slightly worryingly, unless this land is managed, it is in danger of becoming too overgrown and losing its wildlife interest.
So, what did we see? The aforementioned grasses, with their wonderful English names – the peppery-tasting False Oat-grass, Cock's-foot and Yorkshire Fog – were all looking splendid.
Pretty pea-flowers of various ty
pes were easily spotted, including tares, vetches, medicks and the beautiful Grass Vetchling.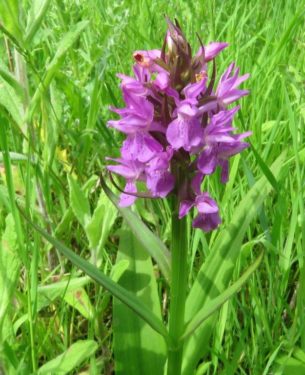 A botanical highlight had to be the Southern Marsh-orchids, maybe thirty of their purple spikes visible among the dense undergrowth. This is one of the species that will eventually be pushed out if nothing is done to control its neighbours, as has probably already happened to some of the other orchids found here until three years ago.
Insects were out in force. The brightly-coloured Cardinal beetle was easy to see, but other more camouflaged beasties were equally interesting: the rather peculiar European Cinchbug family clinging to a grass leaf, the bagworm moth encased in its suit of dead grass stems, and the unidentifiable but undeniably cute saw-fly caterpillar.
A couple of species of ladybird were noticed – a tiny vegetarian 24-spot, one of the smaller types, and in contrast the much larger Harlequin, a voracious eater of aphids, but unfortunately also other ladybirds. Watch out Mr 24 spot!
Thick-thighed Beetles were looking polished and sparkling in the sunshine, but the piece de resistance had to be the fabulous Fox Moth, spotted  by Glyn.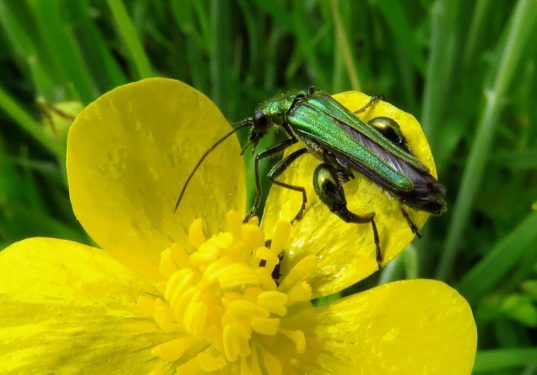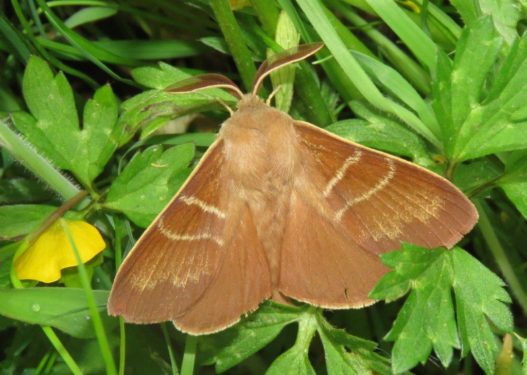 Our next walk will be on Sunday 15th July – a different date to that advertised, (we wouldn't want to compete with The Tendring Show), at Lower Lodge.  Meeting place will be the Outdoor Gym, easily accessible from Dixon Way, or the railway crossing from the trail, or the Rosabelle woodland car park. If you would like to book a place, please contact Jude (jmgibson1959@btinternet.com 07503240387).  Looking forward to seeing some of you there.