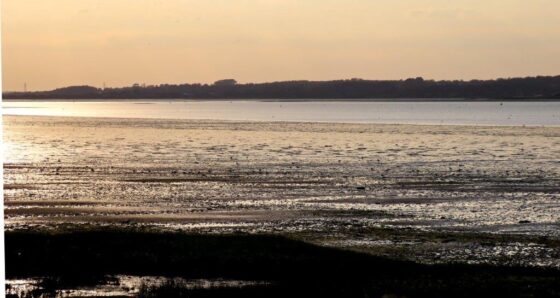 Our first Botany and Bug foray into the wild spaces of Wrabness proved as enjoyable as we had hoped, with lots of wildlife waiting to be discovered, in perfect summer evening weather. The Essex Wildlife Trust's Wrabness Nature Reserve was our venue, a mosaic of scrub and grassland, with views over the twinkling Stour Estuary, all easily accessible thanks to the road network from is former incarnation as a wartime mine depot.
Below is a list of some of the best bits, together with a few photos …
PLANTS
Some from the Pea family included Meadow Vetchling, Black Medick and Broad-leaved Everlasting Pea.
Also important resources to visiting insects, among the umbellifers were Wild Parsnip, Upright Hedge Parsley and Wild Carrot (with shaggy ruff, and purple middle to attract insects).
Other plants, radiant in the sinking sunlight, included Blackthorn with fruiting Sloes  (surprisingly heavy cropping after the cold weather we had in April when the flowers were out), Common Knapweed and Hoary Ragwort, complete with Cinnabar caterpillars…
… the semi-parasitic Red Bartsia, Dittander (tasting of Horseradish), and Woody Nightshade…
…and a final selection of Teasel, Rose-bay Willowherb and a patch of Wild Marjoram, an unusual site away from chalk soils.
Moving on to GALLS, those interesting structures caused by various wasps/flies/midges/fungi etc, three mini-wasp galls on Dog Rose were the Robin's Pincushion, Smooth Pea Gall and the remarkable spiky Sputnik Gall.
BIRDS
No photos of these, but Blackcap, Whitethroats and Chiffchaffs were moving through the scrub patches, and a Yellowhammer flew over along with lots of southerly-heading Swallows.
Last but not least, some of the INVERTEBRATES that accompanied us on our journey. Butterflies included a confiding Comma, making the most of the last rays of sunlight, the cocoon of a burnet moth, several harvestmen (Arachnids (like spiders), all with 8 legs but they don't make webs, just hang around on leaves) and the plant bug Phytocoris rufipes.
And of course the highlight of the day…
Great Green Bush Cricket – wasn't she magnificent! And really rather scarce in Essex.
Thanks to those who joined our walk, and for the donation which we have sent to the Essex Wildlife Trust. We hope to include this site in our expanded programme of walks next summer.