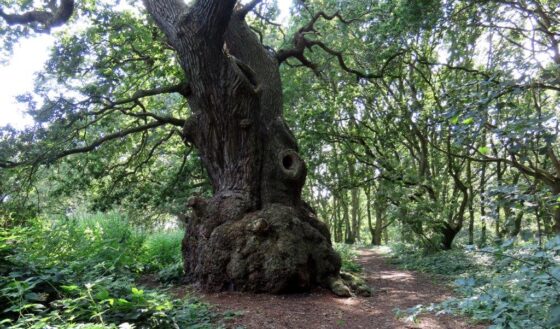 Renowned for its collection of veteran oak pollards, some dating back perhaps 800 years or more, Furze Hill was the venue for our first organised walks in that part of the county. Two, hour-long walks were our small gesture of thanks to the Street Keepers of Lawford, Manningtree and Mistley, who devote so much time to trying to rid their communities of the modern curse of herbicide applications.
We have blogged before about the veteran trees – see Furze Hill, Mistley: home to the Ancients from March 2018 – after a visit in spring when the wonderful naturally sculptural trees are so much easier to appreciate. We will say little more about them now, save to report that Old Knobbley, the most venerable of all, still marches on …
A summer visit of course gave us a window into the plant and especially insect life of the area. In the more open parts of the woods, Enchanter's-nightshade (unique in having only two petals) and Rose-bay Willowherb were blooming.
Along the wood edge, several Caper Spurges have popped up from unknown, presumably garden, sources, while Common Mallow was flowering profusely . A feature of the 'dog-wee' plant community, Mallow is found particularly where exercising dogs have their first tiddles, but despite its less-than-salubrious habits, it is a vital source of nectar and pollen for insects.
Of the former heathy nature of Furze Hill very little botanical evidence remains, just a few remnant patches of Climbing Corydalis…
… although as we walked across the field, it was clear that great things could be achieved for wildlife, people AND carbon storage if larger parts of the fields were managed under an autumn cut haymaking regime. Bird's-foot-trefoil, Sheep's Sorrel and Common Cudweed were all visible in the turf, in spite of the mowing intensity, and no doubt others plants would rear their heads if allowed to do so. Every little would help!
As far as the insects were concerned, rough grass, Brambles and overhanging branches are a potent combination. Forest Bug and Green Shield-bug were on show, with a clutch of recently vacated eggs of one species or another on an Oak leaf; searching other leaves also produced developing Spangle Galls and the distinctively marked weevil Orchestes signifer.
The acorns of the same Oak were starting to show the disfiguring Knopper Galls.
A good range of grasshoppers and bush-crickets showed themselves, including Roesel's and Speckled Bush-crickets and Meadow and Field Grasshoppers.
All that, and much more made for a very entertaining couple of hours and we will certainly look to bring the area into our programme of events next summer.