Almost exactly two years ago, just as we entered the first Covid lockdown, our local wanderings focused our minds on the benefits of Alexanders. We blogged about it at the time (see here), but make no apologies about continuing that theme. Last week on the warm, south-facing slopes of the coast of East Sussex, Alexanders was already coming up to peak flowering, a good week or two ahead of its state here on the Essex coast.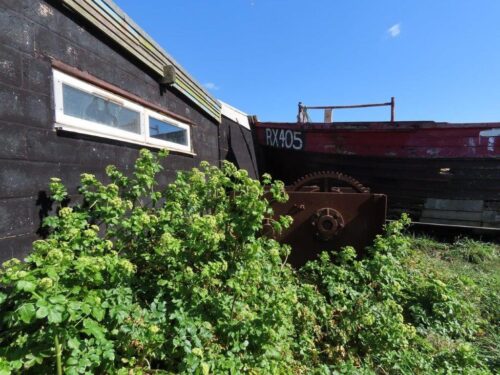 The sun shone and, out of the chill easterlies, temperatures rose. But where were the insects? Well, there was little for them to be feeding on – the windswept coastlands had a little Blackthorn flowering and the first few Dandelions showing in the grass. Nothing else native. Alexanders was filling that gap…
Solitary bees, hoverflies, social wasps and ladybirds among many others were homing in to the musky-scented flowers, almost visibly dripping in nectar. It may not be a native species, but it certainly pays for its keep in the nectar- and pollen-starved British early spring landscape.
And not just on the flowers: picture-winged flies and ensign-flies were using the broad leaves as display arenas, alongside apricating sun-ray catchers like Nursery-web Spiders and more solitary bees and vantage points for predators like Yellow Dung-flies, among the erupting orange pustules of Alexanders Rust-fungus.
At times of climate catastrophe, with many insects emerging early into a barren landscape, it is plants from more southerly climes that will help tide our insects through the bottleneck until such time as native plants can catch up. Millennia on, the imports of our ancestors are still producing the goods for their adopted home.