January's walks were short and sweet, and concluded our three 'Tree-mendous' winter events. We walked around the edges of King George's Field looking at winter twigs, bark and tree shapes.
Below is a series of close-ups of Chris' photos of some of the twigs we looked at, with a brief description: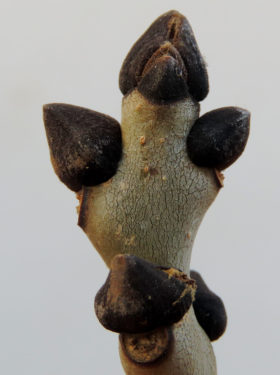 ASH  Twigs straight and slightly flattened below the buds, which are black and distinctive and usually in opposite pairs.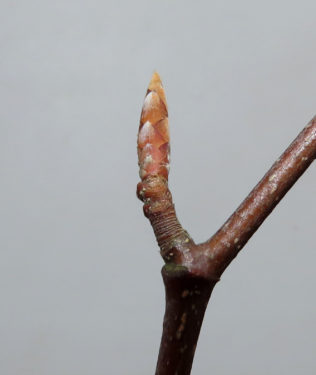 BEECH  Twigs thin and zigzagged.  The buds are long and slender, with a waxy white tip, and spread out from twig at a 60 degree angle.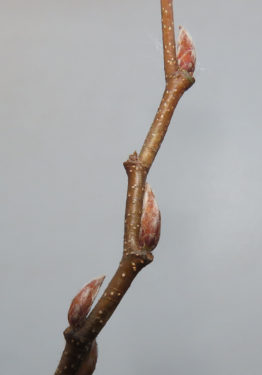 HORNBEAM Twigs slender and zigzagged.  Buds long and pointed, like Beech, but appressed close to, even curved into, the twigs.
HORSE-CHESTNUT Twigs thick, with horseshoe-shaped leaf scars.  Buds with large red-brown scales, not yet quite at the stage of developing their characteristic stickiness.
SWEET CHESTNUT  Twigs shiny and markedly ridged, with heart-shaped leaf scars, showing numerous vascular bundle scars.  Buds plump, reddish and sit on 'shelves'.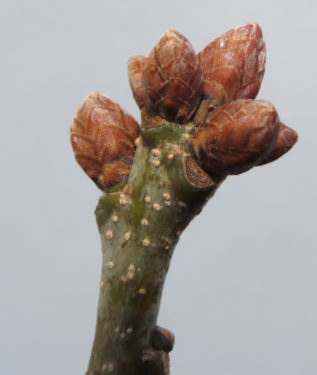 OAK  Twigs widely branched, showing numerous pale lenticels ('breathing holes')  and often decorated with woody galls.  Buds plump, orange-brown, and clustered and scaly.  The number of visible bud scales is diagnostic of type of oak: fewer than 20, as here, indicates Pedunculate Oak.
SYCAMORE  Twigs greyish, often with 'wrinkled stockings', the stacked leaf scars from previous years. Buds large and pale green, in opposite pairs, but with a lovely purple edging and a white fringe. See, even dormant buds can be beautiful and exciting! And you really do not need leaves and flowers for identification: botanists should never hibernate!
We are indebted to The Field Studies Council for their very informative booklet 'Winter Trees, A photographic guide' for inspiration and information. https://www.field-studies-council.org/shop/publications/winter-trees-a-photographic-guide-to-common-trees-and-shrubs/