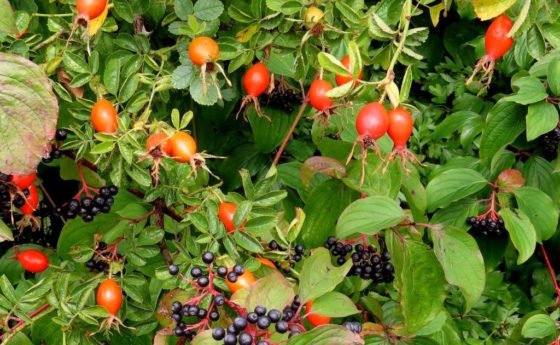 Our fourth and final planned visit of the summer to Phyllis Currie was sadly blighted a little once again by uncertain weather: cool, dull and breezy, not the long days of insectivity we had been hoping for at the outset. Nonetheless, examination of the various leaf-mines and galls helped to swell the number of species we recorded  – feeding signs are just as valuable a biological record as seeing the critters themselves!
And searching among the foliage did of course reveal some invertebrates, especially arachnids and flies, along with numerous Box Bugs at every stage of development from egg to adult.
Even if the weather had been suitable, our usual method of looking for nectar and pollen resources would no longer have been especially productive. In contrast to the flowery swathes of past visits, it was down to Water Mint by the ponds, and Wild Carrot in the meadows. Just Ivy to come and it will be time to buckle up for winter.
But as the photos show, some of the most noticeable changes at the reserve since our last visit were the developing fruitfulness of the shrubs and trees…
…and the general shift from summer greens to autumnal hues, a tendency to russet in both the leaves and the insects.
So what of our summer's explorations? What we haven't done is found anything so rare that it would be a showstopper for the adjacent development. But then again we never expected to. We have added a whole raft of species to the reserve list, which are evidence – evidence of wildlife value – which will hopefully play a part in the local actions to protect and enhance Phyllis Currie into the future. And it gave us the impetus to seek out and explore this hidden gem of Essex, well off our usual beaten paths: it is a delight to know such places are still there for all to enjoy.