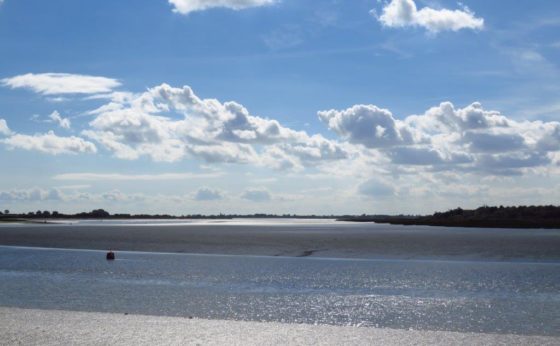 The sun shone and breeze was pleasant for our walk this morning: thank you to everyone who came along. The main focus this month was the various salt marsh plants, found both along the slopes of the sea wall and on the marsh at Whitehouse Beach. Each is specially adapted to live in the salty conditions, some by virtue of their fleshy, succulent, leaves which preserve moisture (e.g Marsh Samphire and the Seablites), and others by processing salt water and excreting the excess salt (e.g. Sea-purslane). Many of the plants we saw are members of the Spinach family, the most halophytic (salt-tolerant) of families worldwide, mostly edible, and all with unfortunately 'subtle' flowers…..
…but there were some species with more showy flowers, including three oft-confused members of the Daisy family: Golden Samphire with yellow rays, and occupying the upper tidal limit, and Sea Aster, in both its forms, one with with purple rays, the other lacking rays completely.
Other plants included Cord-grass, in full flower with its feathery pollen receptors poking out, leading to a discussion about its unique and really quite recent formation as a species (come along next year if you'd like to know more!). Likewise provoking a chat about the sex-life of (some) flowers, a Hawkweed was flowering in the wood, and along the highest level of the marsh, Common Toadflax was in lovely flower, a special plant for us as a main foodplant for the Toadflax Brocade moth, one of the highlights of last month's walk (see here).
Due to the exceptional conditions of the summer, and delay in the start of autumn there was very little in the way of fungi in the wood. In fact we only found rather dull example of Wood Mushroom and Parasol, and not the spotty red and white Fly Agaric which we had hoped for,  but which can often be readily seen along the woodland trail, near Birch trees.
As always we were on the watch for bugs and beasties … a few nice examples included the smart red and black sawfly, an Arge species, although difficult to narrow down to an exact 'Make and model', there being many similar  versions of this little wasp.  Another sawfly, in the form of a gall caused by it, was found on the leaves of Willow: the gall even had the exit hole showing it had been vacated. Galls, along with fungi and fruits are likely to be the main focus of next month's walk. A rather splendid Forest (also known as Red legged) Shield bug was discovered,  basking in the sun and enjoying his lunch, by means of his specially adapted piercing beak-like sucking mouthparts. This species is omnivorous,  also preying on caterpillars and other insects.
 On the marsh it was good to see a good number of the rare stripey-bottomed Sea Aster Mining-bee, which feeds almost exclusively on Sea Aster. It therefore emerges only in August-September when is food source is flowering. Its nesting colonies, on sandy ground above the reach of spring tides, cannot be too far away.
So what else did we see?  Um, let me think…..oh yes!, thanks to a tip off from our friend Glyn, we were very privileged to witness the majestic flight of a magnificent Osprey, circling at length above us. It was mobbed  by a couple of Buzzards, as one of our group exclaimed '3 birds of prey in my binoculars at once!'.   Although our walks being 'non-birdy' ( Richard Allen's successful monthly bird walks are the place for a birding experience in Wivenhoe on a Saturday morning), we had to make an exception!  This bird was probably a migrant, on its way back to Africa. We can't help thinking that this will be the lasting impression of our September outing. We managed just the odd snatched photo but no doubt Glyn's magnificent efforts will be posted on the Wivenhoe Forum before too long!
And true to form, check out Glyn's excellent photos of the bird here, on Page 31…