At the start of 2022, 'with a little help from our friends' (you know who you are!), we rebranded our nature and wildlife activities as #WildEssex, with the banners above and below, and even tee-shirts!
So from these aspects alone, it has been an interesting year, a time of change and innovation. As always, wildlife walks have been our mainstay, with one or two in most months, apart from the late summer period when first it was simply too hot to meet safely out in the open, and then when my mobility was severely impaired by a femoral nerve problem. Blogs of all our regular walks are available – just filter these blogs for 'WildEssex' and all will appear, or pick and choose them from the drop-down List of Blogs.
Those walks we did do were of course a mixed bunch. As always, several were around Wivenhoe, though we have started branching out further afield around Brightlingsea, Mistley, Wrabness and Harwich, trying so far as possible to make them convenient for those who wish to travel by public transport.
In response to increasing numbers booking, we ran several of the walks twice in quick succession, itself a challenge when one was warm and sunny, the other being cold, damp and windy (April in Cockaynes Reserve comes to mind). Indeed weather is always a concern, and never more so than at Wrabness in May, the first time we have tried a four-hour walk. And for all but 15 minutes of those four hours it rained, sometimes heavily (see below)! And then of course there was the October fungus foray in Wivenhoe Park when preceding drought meant there were almost none to be found. Such is life and the lot of wildlife guides!
Another innovation was planning the walks around food and drink. Mistley (February and June) benefitted from the zero-waste (but serious quality!) coffee kiosk outside Mistley Station, our June charity walk around Alresford made a welcome stop for a drink at The Pointer, and around Brightlingsea East End in July, we went the whole hog and ended up with a delicious lunch at The Rosebud. We intend this model to feature in future years!
And on the a similar theme, we also ran our first multi-day, overnight-stay event, at Burnham-on-Crouch. During two half-day and one full-day walks, we explored thoroughly around Burnham, and across on the ferry to Wallasea Island, all interspersed with two excellent evening meals, one in our hotel, the other in The Ship Inn, and (for some of the group at least) two comfortable nights in the historic waterside Ye Olde White Harte Hotel. Again, we hope to arrange similar elsewhere in Essex this coming year.
So much for the food and drink, but what of the wildlife? Well, as always it was rich, varied and often surprising, such as an unexpected flock of Pyramidal Orchids at Brightlingsea.
And it is far from only the commonplace things we find. Also at Brightlingsea, the very large, gold-ringed black weevil Liparus coronatus showed itself to us in July – the only other times we have seen this scarce insect anywhere have been two previous occasions within a radius of less than a kilometre.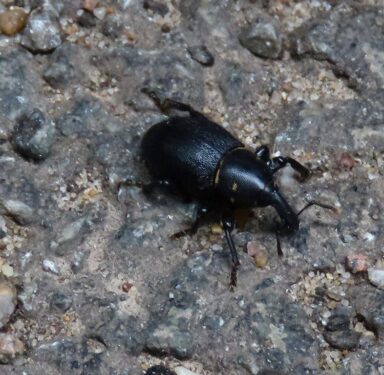 Our Burnham awaydays produced a bracket fungus on Sea-buckthorn, Fomitoporia hippophaeicola, for which the National Biodiversity Network maps show no previous records in Essex.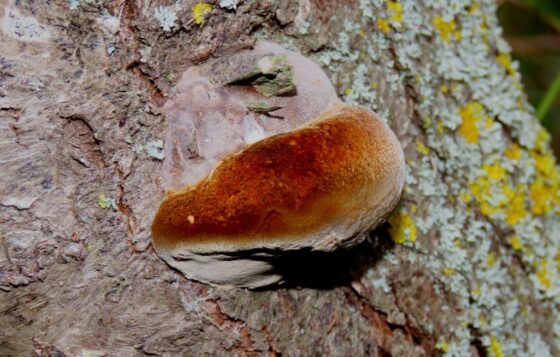 And September at Harwich we came upon a new locality for the nationally scarce Dune Villa fly, while Wivenhoe Park in October gave us a new gall, a very recent arrival in these parts, the cowrie gall of Neuroterus saliens on Turkey Oaks.
What else? WildEssex entered the modern era with a Facebook presence (Wild Essex – Bringing Nature To You) and a WhatsApp group to keep in regular touch, in addition to our website and Twitter. We started running free monthly Zunday Zoom talks in the winter months, all of which have been recorded and are available on request to anyone who wants to watch them (thus far, Summer by the Stour Estuary, Coastal Plants, the Magic of Mushrooms and Review of 2022).
Jude has relaunched her free monthly newsletter to very positive comments, and there have also been several bespoke walks on request (Wivenhoe Wood in April, a symphony in blue, was particularly memorable) together with talks now taking off after the enforced break of Covid19. Although sadly fewer this year as people are once again looking abroad for wildlife travel, we have provided walks for Naturetrek, both locally and further afield, including Hockley Woods and even Somerset.
We have continued to work closely with Beth Chatto Gardens, advising staff (and, by extension, visitors) on wildlife and sustainability, with a monthly staff newsletter, moth trapping and survey work on the show-gardens designed to demonstrate the mantra of 'right plant, right place' at nearby Chattowood. And begun to work with Great Bentley Parish Council in trying to improve the second largest village green in the country for wildlife, among other engagement with local authorities, particularly Wivenhoe Town Council.
All that, and then the writing, with three big book projects which should come to fruition in 2023 and several other pieces, including book reviews (see specific blogs on these – Reviews and Books – now posted…).
A busy year, not without its frustrations, but plenty of fun and excitement. And as we generally do, we have been pleased to make charitable donations. Buglife, our regular charity of choice, saving the little things that run the planet has been sent £400; Essex Wildlife Trust, owners of some of the sites we visit, £50; and the Ukrainian appeal, trying to mitigate the effects of the war crimes being committed over there, £120. All very deserving causes, and we wish it could be more.
So here's to 2023, with a full programme being planned, starting with our traditional New Year's Day Wild Flower Hunt. Thanks everyone for your support!